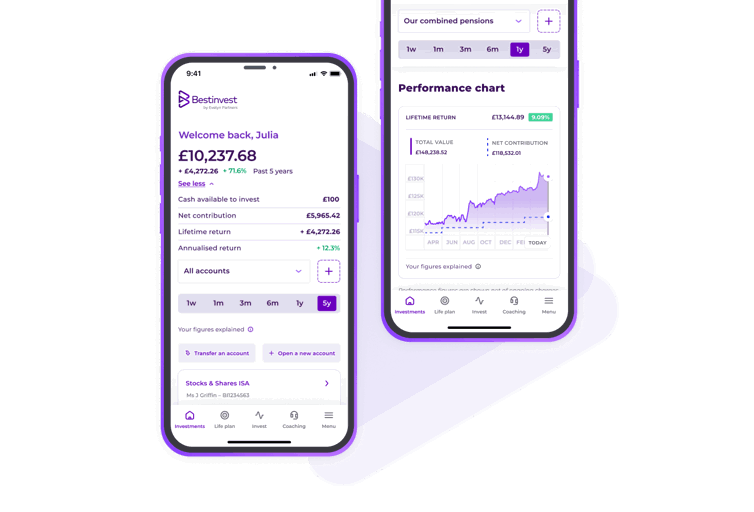 Fees for your Bestinvestments
At Bestinvest, it's free to open an account, transfer investments and trade US shares online. See our tiered services fees for great value no matter how much you are investing.
With investing your capital is at risk
Fees eat away at your investment returns – and your future financial goals. At Bestinvest, we help you keep costs to a minimum.
Introduction to fees
Our fees apply across all account types, including ISAs, Junior ISAs, Investment Accounts and SIPPs, with some further conditions around SIPPs. If you hold investments, you will be charged service fees. If you buy and sell shares or exchange traded funds (ETFs), you may also be charged dealing fees. Depending on the individual investments you make, there may be other charges, such as the ongoing charges figure (OCF) for funds and stamp duty on shares.
For further explanation on costs and charges, you can read our free tutorial and Key facts about Our Services and Costs or call us on 020 7189 9999.
Service fees
A service fee is an annual charge for using an investment platform. We charge a per annual charge and deduct it monthly. Our service fees are tiered, meaning the rate you pay is lower on higher balances. Our service fees are also lower for investments in our Ready-made Portfolios and US shares, tiering down from 0.2%. Service fees for investments in Third party funds and UK shares tier down from 0.4%.
| | | | | |
| --- | --- | --- | --- | --- |
| Investing Assets | £0-250k | £250-500k | £500-1m | Over £1m |
| Ready-made portfolio funds | 0.2% | 0.2% | 0.1% | Zero |
| US shares | 0.2% | 0.2% | 0.1% | Zero |
| Other Funds and UK shares | 0.4% | 0.2% | 0.1% | Zero |
Our SIPPs have a minimum service fee of £10 per month, excluding Child SIPPs, which means you could pay more than the above service fees. Read more about our low-cost SIPP Charges. There is no minimum service fee on ISAs, Junior ISAs, or Investment Accounts.
Example of service fees for £20,000 invested in an ISA:
The above illustration shows pricing including total platform costs. Ongoing fund charges (unique to each fund) and Transaction costs are not included. For more details, read our investment fees and charges page.
Dealing fees
Dealing fees are charged when you buy and sell ETFs, UK shares, and other non-fund investments. To buy and sell UK shares and ETFs, we charge a fee of £4.95, which is among the lowest in the market. For buying and selling US shares we do not charge an online dealing fee, but there is a foreign exchange (FX) fee of 0.95%. This makes us one of the cheapest platforms to trade US shares on. At Bestinvest, there is also no fee to buy or sell funds.
Below is an overview of dealing-related fees you may be charged:
| | |
| --- | --- |
| Types of fees | Trading cost |
| UK shares | £4.95 |
| US shares | Free |
| Stamp Duty Reserve Tax | 0.5% of the value of investment you buy |
| PTM levy* (panel of takeovers and mergers) | £1 |
| Funds | Free |
| Dividend reinvestment | Free |
| Regular investing | Free |
| Limit orders | Free |
| Telephone dealing | £30 |
| Paper statements, valuations and contract notes | £37.50 (quarterly) |
See our Dealing fee comparison
In addition to the above fees, funds and ETFs also have an Ongoing Charges Figure (OCF). This fee is specific to each fund and is set by the fund manager.
*Where applicable
Advice Packages and Coaching
We offer free coaching – even if you are not yet a client. We also offer low-cost paid investment advice.
| | |
| --- | --- |
| Advice type | Cost |
| Coaching | Free |
| Invest For Your Goals | £295 inc. VAT |
| Portfolio Health Check | £495 inc. VAT |
For the full list of fees, read our Key facts document.
Interest on your cash balance
ISAs, Junior ISAs, SIPPs and Junior SIPPs
Free from UK income tax
The interest rate on cash within any account you hold is set by our custodian (SEI) and is subject to change without notice. The rate shown is the Annual Equivalent Rate (AER) which shows what the interest rate would be if interest was paid and compounded once each year. Interest is paid monthly in arrears.
Interest in other account types is paid gross and you are responsible for paying any tax due on interest that exceeds any tax-free allowances. Tax rates depend on individual circumstances and are subject to change. For more information see our Terms of Business here.
What you'll get with our award winning platform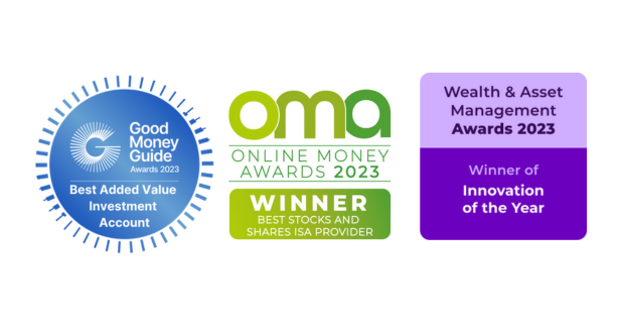 Free investment coaching

Get help putting an investment plan in place or understanding your options before you invest. All our coaches are qualified financial planners and can help you with your investment strategy. 

Advanced goal planning

Personalise your goals to motivate your investing and keep it on track. With our simulator you can see in real time how small changes today could deliver big results tomorrow.

Expert insights
Important information
The value of your investment can go down as well as up, and you can get back less than you originally invested.
Past performance or any yields quoted should not be considered reliable indicators of future returns. Before investing in funds please check the specific risk factors on the key features document or refer to our risk warning notice as some funds can be high risk or complex; they may also have risks relating to the geographical area, industry sector and/or underlying assets in which they invest. This is not personal advice. Taxation depends on individual circumstances. ISA and tax rules may change.