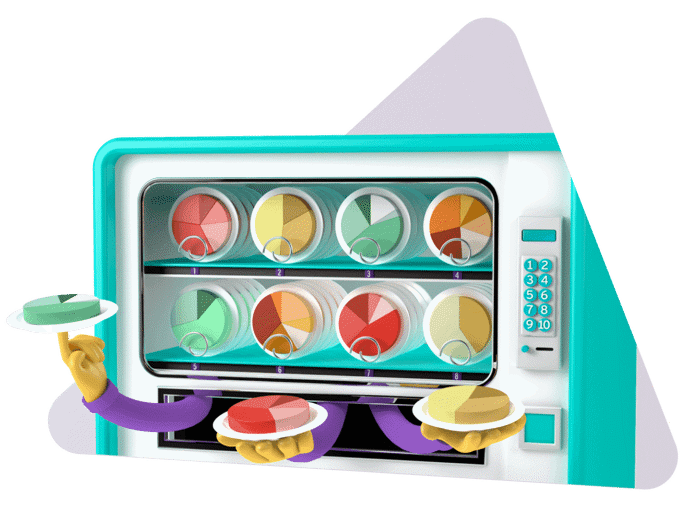 Ready-made Portfolios - get the help of an expert
The easy way to invest like a pro
With investment, your capital is at risk.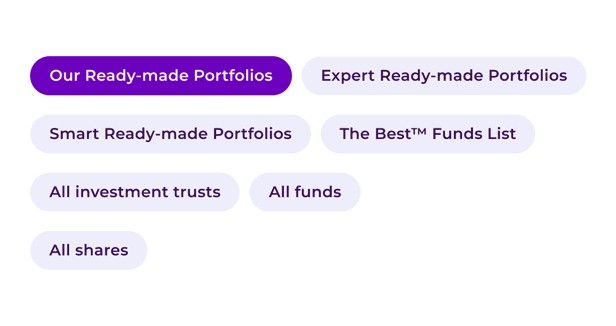 What are Ready-made Portfolios?
Bestinvest's Ready-made Portfolios are built from a range of investments selected by our expert teams at Evelyn Partners. They look after more than £50 billion of people's money. These 'off-the-shelf'-style portfolios come with a carefully selected collection of investments, so you don't have to spend time choosing them yourself.
We have three ranges, Expert, Smart and Direct. These have different investment portfolios, from defensive to maximum growth and everything in between. So whether you are confident taking risks with your money to try to get bigger returns or you are more cautious, you should find one for you. If your focus is sustainability or income, we have funds for that too. Just pick the one you want and we'll do the rest.
Our team of experts decide where and how much to invest, dedicating a lot of time to finding the right mix of investments. They choose those that they believe strike the best balance between the return objectives and risk level of each portfolio.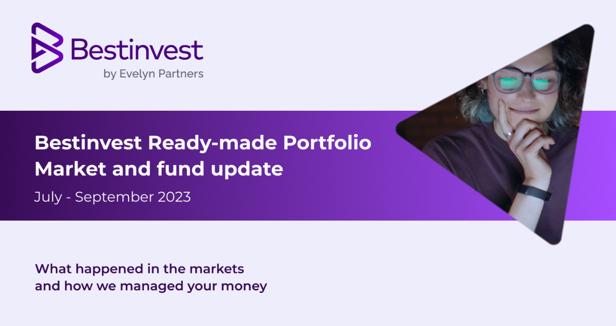 Our Ready-made Portfolio quarterly update
How have we managed your money?
In this video, Ben Seager-Scott, Head of Multi-asset Funds at Bestinvest's parent company Evelyn Partners, looks back at the markets over the past quarter (July to September 2023). He explains our take on things and importantly, how we're managing your money.
Never pay more than 0.2% service fee on your Ready-made Portfolio holdings.
Which Ready-made Portfolios do we have?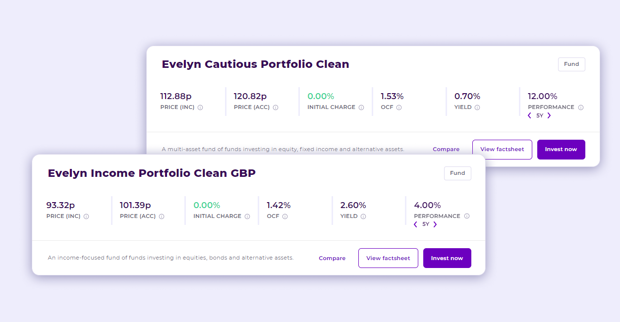 Expert – focus on maximising returns for the risk you take

Our fund managers aim to maximise your returns for the level of risk you've chosen to take. To do this, they select best-in-class, actively managed funds to give you diversified access to great investment ideas. They currently manage over £7 billion in client assets (as at January 2022).

Smart – focus on cost-efficiency

Our fund managers use the same award-winning asset allocation intelligence that powers our Expert portfolios. To keep the costs down, we replace the actively managed funds with low-cost investments such as exchange-traded funds (ETFs).

Direct - focus on individual investments

This range invests directly into individual shares and bonds rather than funds. It gives exposure to a concentrated portfolio of approximately 55 investments that are chosen from across the sectors and actively managed by our experts. There are four options in this range – from moderate to higher risk. By choosing direct investments rather than funds, investors are exposed to more individual company risk but there is also the opportunity for greater performance. With no third-party costs, this range is also low cost.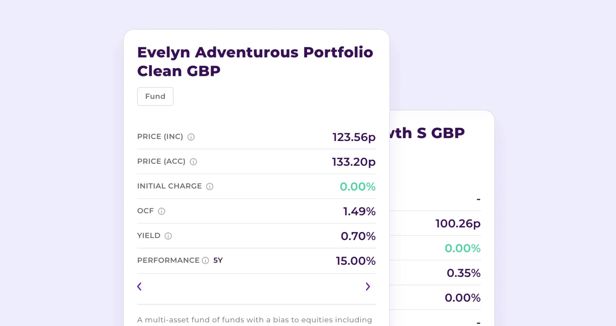 Which Ready-made Portfolio is right for me?
This depends how you feel about investing and what you want from your investments.
For example, do you simply want to protect yourself from the effects of inflation or do you want to grow your money as much as possible? Your answer will almost certainly depend on how much risk you're prepared to take with your investing.
Feeling green? We also have sustainable funds that invest in companies that demonstrate ESG (environmental, social and governance) criteria and sustainability credentials while also seeking to avoid traditional 'sin' sectors.
Looking for an income from your investments? We have an Expert fund that aims to deliver a high level of income with the potential for moderate capital growth over the long term.
Our seven types of Ready-made Portfolio
Within each range we have different portfolios for different types of investors, for example those aiming for maximum investment growth or those taking a more balanced or cautious approach.
The more adventurous portfolios will be geared towards equities (shares). The more conservative ones will be geared towards non-equity assets. These are likely to include government and corporate bonds in the Smart range and alternatives, such as commercial property and absolute return funds, in the Expert range.
The team behind the portfolios
The portfolios are looked after by Evelyn Partners in-house investment team. They have access to the same research and tools that are used to power the investments of people with hundreds of thousands of pounds to invest.
Each member of the team specialises in a particular area – whether that's researching individual investments or making sure the portfolios reflect any changes in the economy or political world. They have been doing this for years and have decades of experience between them – so you know your money is in good hands.
Who are Ready-made Portfolios for?
Ready-made Portfolios are popular with people who:
Want to invest but aren't sure where to start
Don't have the time or interest to choose and manage their own investments
Would feel more comfortable with a team of professionals looking after their money
Need help deciding?
Many people find it difficult to make decisions about what to do with their money. If you are unsure which portfolio to choose, why not book a session with one of our coaches? They can help you understand the pros and cons of the different options. And if you want a personalised recommendation, there are a number of low-cost advice packages on offer.
What are the benefits?
There are plenty of reasons to start investing with a Ready-made Portfolio.
It's easy
Our team review the portfolios continually, checking that they are performing well and making any changes when necessary. So, once you've chosen a portfolio you won't have to lift a finger, although it's a good idea to check back regularly to make sure the portfolio is still right for you and your goals.
Your money is in good hands
Your money will be looked after by Evelyn Partners in-house investment team. They do this all day, every day – so you can be sure your money will always be held in the investments that the team believe are the most likely to do well (although with any investing there is always a risk of losing money).
Great value
Ready-made Portfolios will cost you a little more than picking and looking after your own investments. But they're still one of the cheapest ways to have your money managed by professionals. And with all our Ready-made Portfolios, you'll also get a discount on your service fee.

Forbes Advisor - 2022 Best for low-cost Ready-made Portfolios
Frequently asked questions
What is a Ready-made Portfolio?
A Ready-made Portfolio is a carefully selected 'off-the-shelf' collection of investments so you don't have to spend time choosing them yourself.
Why are your Ready-Made Portfolios branded "Evelyn"?
Our Ready-Made Portfolios are branded "Evelyn" because they are managed by a team made up of investment managers from the investment management companies within Evelyn Partners. We look after more than £50 billion of people's money.
What's the difference between the investments held in Expert, Smart and Direct?
The Smart range invests in passive instruments, predominantly Exchange Traded Funds (ETFs). ETFs mirror the performance of an index such as the FTSE 100 and can be bought on the stock exchange just like shares.
The Expert range invests in funds managed by expert stock pickers across different asset classes. Our in-house investment team regularly check in with the managers of these funds to make sure they are doing a good job.
The Direct range invests directly into individual shares and bonds rather than funds. It gives exposure to a concentrated portfolio of approximately 55 investments that are chosen from across the sectors and actively managed by our experts
How much do your Ready-made Portfolios cost?
Because the Ready-made Portfolios are managed by a team of investment professionals, they cost a little more than choosing your own investments. The annual fund charge for our Smart range goes from 0.32% to 0.35% and for our Expert range from 1.42% to 1.54%. Our Expert range costs a bit more because of the extra layer of investment professionals looking to outperform the market with the investments they select. Our Direct range is 1.05% - in the middle of the other two as investing directly in individual investments removes a layer of cost.
Which accounts can I hold Ready-made Portfolios in?
You can hold any of our Ready-Made Portfolios in all account types we offer – that's Investment Accounts, SIPPs (Self-Invested Personal Pensions), ISAs and Junior ISAs.
Once you've opened the account you want, the easiest way to buy the Ready-made Portfolio you want is via our Investment Search where you can use our Ready-made Portfolio quick search.